Git Gud: Better Knowing Your Champions | The Champion's Trophy
Posted August 09, 2019 at 2:20 PM by 8bitbob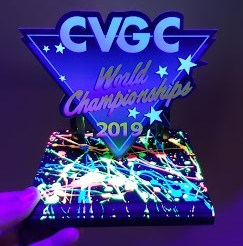 Tonight! Tonight! Tonight! Ohh oooohhhhh!!!
That's from a Genesis song. It's called Tonight Tonight Tonight.
As I write this at 14:46 on Friday 08/09/2019, the ToC is actually happening Tonight Tonight Tonight. This is going to be a fantastic event as our past reigning (raining?) champs square off: Notaburger, Mattgt321, Saint and Aboth.
While the focus will definitely be on the four of them as they go head to head (hand to hand?), I wanted to give everyone a chance to get to know Tony the Trophy. That's right, our trophy is sentient and has a soul and a consciousness. Our trophy is also black light active and makes for a RAD centerpiece in anyone's game room.
So without further doodoo (ado...adieu?), I give you...........the trophy.
What is your favorite 80s movie?              
GARBAGE PAIL KIDS AND/OR MY PET MONSTER
What is your favorite 80s song?
8BITBOB CREATED ME TO KNOW AND UNDERSTAND ONLY GENESIS AND PHIL COLLINS. EVERYTHING ELSE IS CONSEQUENTIAL.
If you were going to try and bribe the Tournament of Champions officials, what would you be offering? Hypothetically…
HYPOTHETICALLY SPEAKING, I WOULD BRIBE THEM WITH A RETURN TRIP TO LIVE THE FULL EXPERIENCE OF THE 1980'S IN A SPAN OF 1 HOUR. TIME WOULD BE CONDENSED SO AS TO BE IMMERSED IN THE 80'S AND RETAIN ALL MEMORIES.
THAT OR EVERY ISSUE OF NINTENDO POWER.
What is your favorite game played at CVGC?
NUMBER MUNCHERS
What is your special move?
GLOWING UNDER BLACK LIGHT AND BEING TRIANGLE-SHAPED
What motivates you to win CVGC?
I AM TO BE WON
What is your catchphrase?
YIPEE KAYAI MOTHERF**KER
What is your favorite CVGC moment?
THIS IS THE 10TH ONE, A BIG DEAL, A CELEBRATION OF A DECADE OF FRIENDSHIP, BEERS AND AMAZING COMPETITION.
Any games you remember from the tournament that you were particularly good at?
MICHAEL JACKSON'S MOONWALKER